Trust us for reliable, effective electric equipment repair.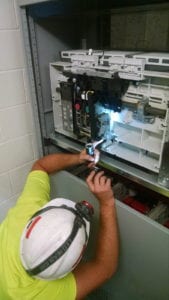 Significantly lower your operation's production costs by repairing your electronic equipment instead of moving forward with replacement. At Electric Power Systems,
we have a strong history of handing many types of electric equipment repair, including repairs needed for transformers, switchgear, inductors, motor controls, and more.
All the electric equipment repair work we complete is thoroughly evaluated and tested prior to signoff. We will also repair your entire electric unit, not just the origin of the failure. Ultimately, we want to leave you with the confidence that comes from knowing your electrical equipment is covered and operational from that point forward.
We have been conducting electrical equipment repair work since 1987, and thanks to this extensive experience, rest assured we have likely seen issues similar to yours many times before. Our team of well-qualified technicians will effectively restore your damaged components and return them back to their original operating specifications.
When you need service, we realize you want to speak to someone directly, instead of your call being rerouted through multiple channels before securing assistance. We streamline our electrical equipment repair process by connecting our clients directly to our owner or an engineer, instead of a switchboard or a gatekeeper.
Industrial and commercial electrical manufacturer since 1987
Hire Electric Power Systems for your electric equipment repair, and trust that your equipment is in good hands during all phases of the project. To speak with a member of our team about your repair needs and to schedule a service appointment, contact us today!
---
At Electric Power Systems, we offer electric equipment repair services to those in Jacksonville and Tampa, Florida; Pearl Harbor, Hawaii; Norfolk, Virginia; San Francisco and Los Angeles, California; New York, New York; Houston, Texas; Raleigh, North Carolina; and Charleston, South Carolina.