We can manufacture substations according to your vessel's requirements.
For years, ship owners and port authorities relied on onboard generation alone to power their vessels. But today, more and more in the marine industry recognize the value, convenience, and functionality of shore power substations. These sources of power reduce air and noise pollution when ships are docked in port, creating a better environment for passengers, crew, dockworkers, and nearby residents.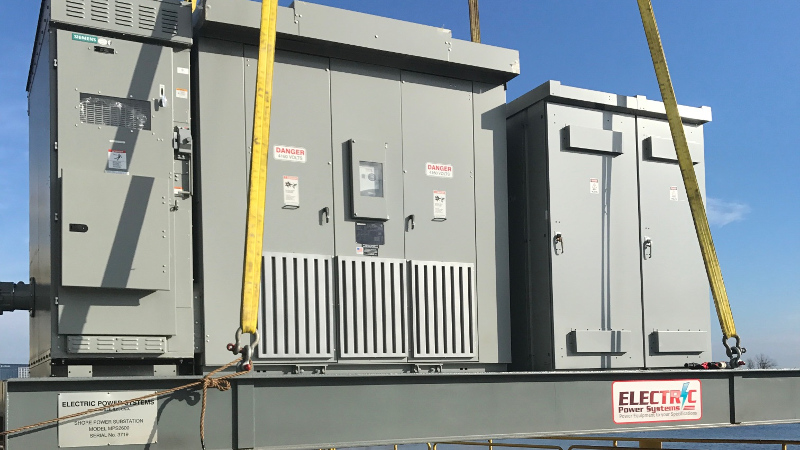 For fully engineered shore power substations from a trusted provider in Charleston, South Carolina, turn to us at Electric Power Systems. The substations we design and manufacture allow ships to receive power from the local power grid. These systems align the frequency and voltage levels required by the power outlet while the ship is at berth. We can also completely integrate this power equipment with the vessel's electrical and automation system for seamless power transfer from ship to shore.
We will work tirelessly to increase the energy efficiency, productivity, and sustainability of your vessel through an integrated grid and automation system designed specifically for your ship. Our shore power substations have helped many vessels move from traditional port operation setups to an alternative, more efficient form of power.
Our substations are compliant with worldwide marine technical standards and specifications, and we guarantee your equipment will meet your requirements and the power capacity needs of your vessel. Contact us for additional information about our design process or to receive a custom quote.
---
At Electric Power Systems, we can build shore power substations for those in Jacksonville and Tampa, Florida; Pearl Harbor, Hawaii; Norfolk, Virginia; San Francisco and Los Angeles, California; New York, New York; Houston, Texas; Raleigh, North Carolina; and Charleston, South Carolina.