Shore power substations can be engineered according to your vessel's unique requirements.
More and more ship owners and port authorities are switching to shore power substations as opposed to onboard generation to reduce air and noise pollution from ships docked in port. This approach creates a better environment for crew, dockworkers, passengers, and local residents by reducing noise emissions, greenhouse gases, and vibrations.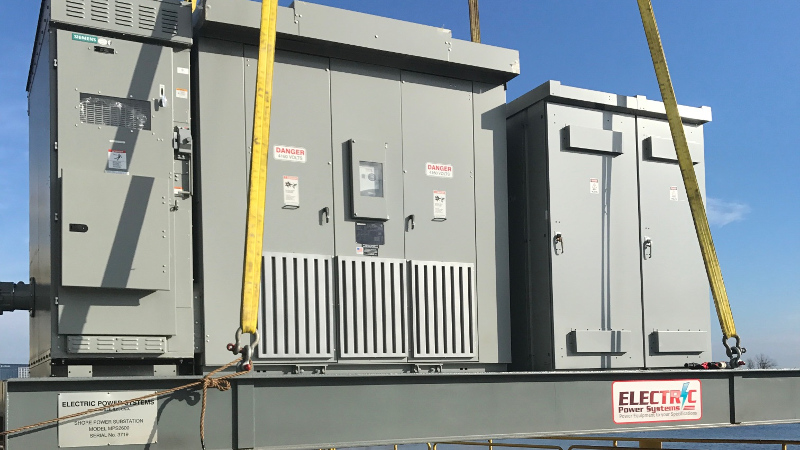 At Electric Power Systems, we are a trusted manufacturer and supplier of fully engineered shore power substations. Our substations allow vessels to receive power from the local grid using a system that matches the frequency and voltage levels required by the power outlet while at berth. This power equipment is also completely integrated with the vessel's automation and electrical system, allowing for seamless power transfer from the shore to the ship.
Choose us for your project, and we can effectively increase the productivity, energy efficiency, and sustainability of your vessel by providing an integrated grid and automation solution designed to help your operations move from a traditional port operation setup to an effective shore power substation. Our shore power substations are compliant with all worldwide technical standards and specifications, and the equipment we develop for your operations will meet your vessel's unique requirements as well.
Our in-depth application knowledge, extensive experience, and impressive capabilities make us your top source for the development, design, engineering, and manufacturing of shore power substations. To discuss your plans for a shore power substation and to receive a custom quote, reach out to us at Electric Power Systems today.
---
At Electric Power Systems, we can build shore power substations for those in Jacksonville and Tampa, Florida; Pearl Harbor, Hawaii; Norfolk, Virginia; San Francisco and Los Angeles, California; New York, New York; Houston, Texas; Raleigh, North Carolina; and Charleston, South Carolina.